2 Big Blue Buttons
Voyager IP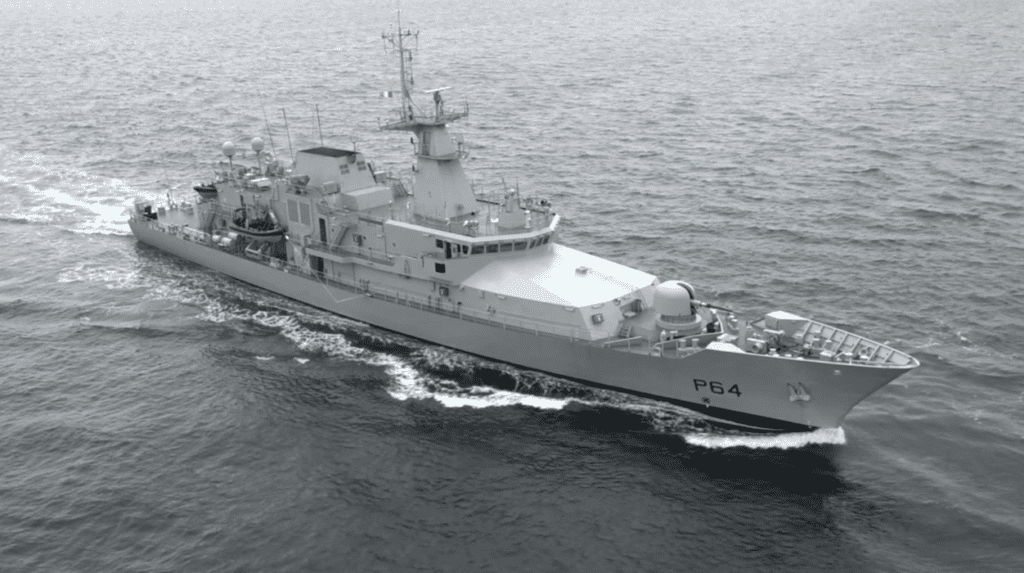 Delighted to announce that our office in Cobh, Co Cork, will be providing RF, IT and AV technical communications support to the Irish Naval Services fleet, including the newest addition, the P64 LE George Bernard Shaw, pictured. With a great breadth of in-house expertise, our Cobh office is ideally positioned to support the ever-growing communications needs of the Irish Naval Service and the thriving port of Cork.
Mark Elliott, managing director, Voyager IP (3rd row from front, white shirt) with scientists and research vessel operators at the kick-off of the EU H2020 Eurofleets + project.
Voyager IP is delighted to be a partner in the EU H2020 Eurofleets + project, for which it will be providing recommendations on standardising communications aboard the largest advanced research vessel fleet across Europe, Greenland, USA, Canada, Bermuda and New Zealand.
There are 27 state-of-the-art research vessels from European and other international partners involved in the project, giving marine researchers opportunities to access research vessels in the North Atlantic, Mediterranean, Black Sea, North Sea, Baltic Sea, Pacific Southern Ocean and Ross Sea.
Mark Elliott, managing director, Voyager IP, said "The typical communications challenges facing such a large research vessel fleet are centred around the different systems and platforms they use.  Voyager IP will be helping the fleet to manage those challenges by offering a standardised communications solution with the required resilience and links to optimise the connectivity of the fleet onshore and afloat."
The Marine Institute in Ireland is the coordinator of Eurofleets+, which includes a consortium of 42 marine institutes, universities, foundations and SMEs from 24 countries across Europe, North America and Oceania, with funding of €9.9 million. It follows on from the success of two previous Eurofleets projects.
Establishing a strategic roadmap and sustainability plan, Eurofleets+ will extend and enhance the capabilities of the European research vessel infrastructure, bringing new perspectives, new ideas, and new research and innovation tracks that will be beneficial to all. The project will prioritise research on sustainable, clean and healthy oceans, linking with existing ocean observation infrastructures, as well as supporting innovative ideas, working closely with industry.
More information on Eurofleets+ is available on www.eurofleets.eu.
It's not the food, the décor, the size of the bedrooms or the staff.  A recent survey by Voyager IP revealed that the top client charter complaint is the lack of a fast internet (VSat) connection.   
Tripp Hock, captain of the MY Amore Mio said, "It's an absolute necessity to have good, stable, fast internet on board.  While many other issues relating to the operation of a yacht can go unnoticed by the guests, there is no way to hide a frustratingly slow VSat connection at sea."
The captains were also asked if the availability of a fast internet connection is now more important than ever before, in terms of securing client charters.  Tripp Hock responded, "Absolutely, and the primary reason for this is the shift in TV content delivery. Those yachts which are not using a stable and reliable Ka VSat service are going to be impacted as guests continue the move from satellite TV to streaming content."
All those surveyed rated reliability as the most important aspect of their Ka VSat service from Voyager IP. Sergey Nikiforov, captain of the Galactica Plus commented, "Aside from social media and entertainment, our clients demand frequent access to business and financial news. Our internet connection must be stable and reliable, with upload and download speeds comparable to on-shore providers, and backed up by great support whenever we need it. "
Ka technology differs from the traditional Ku band satellite internet in that instead of a large 'footprint', it uses multiple spot beams to provide overlapping coverage. Voyager IP, partnered with Telenor, offers the Ka service with lower bandwidth costs than those of the Ku and C band service currently on the market.
Nick Allen is the fleet manager for Rix Shipping, operators of crew transfer vessels to the offshore industry. He commented, "While not always the first concern, clients expect proper communications when they have a vessel on contract and they assume this will be like a shore side connection. Therefore, it is important to have a service in place that meets that expectation."
Tripp Hock added "In more than three years with Voyager IP as my VSat service provider of choice, I can both recommend to others and take comfort myself that my guests' data appetites will be satisfied!"
Marine telecom provider Voyager IP and Digicel have partnered to launch FlexiSIM, the first 3G/4G/LTE re-loadable data SIM card for yachts and leisure craft.  The cards will initially launch in the Caribbean. Recharged through a portal on the Voyager IP website, they will be sold at competitive rates of US$10 per gigabyte.
Voyager IP research estimates monthly 3G/4G connectivity usage costs between US$500 and US$1,300 on superyachts and other leisure craft. Many users have six or twelve month contracts that require upfront payment, regardless of data consumed. Until this partnership, the only alternative was to buy packs of PAYG data SIM cards when vessels arrived in major ports. Due to excessive consumption of data, this alternative was expensive and inefficient.
Mark Elliott, Managing Director of Voyager IP said, "Until now, connectivity solutions for the superyacht and leisure craft market were outdated, expensive and inconvenient. FlexiSIM cards add convenience, putting our customers in full control to manage their costs. Given the changes in EU legislation, it is advisable to evolve from long-term contracts for connectivity."  
Declan Cassidy, Chief Executive Officer, Digicel Diaspora Miami added, "We are happy to partner with Voyager IP, as it gives us the opportunity to address an important need. This is a top-quality, yet cost-effective connectivity solution for our growing base of marine-based clients in the Caribbean."
About Voyager IP
Voyager IP was founded in 2014 by a team of IT and marine telecoms specialists. It specializes in maritime VSAT, Inmarsat, VOIP, 3G/4G internet solutions, on-board entertainment and global telecommunication systems for superyachts, cruise ships, commercial vessels and offshore platforms. IP and the National Space Centre in Cork jointly manage the global satellite communications contract for the Irish Naval Service, the first all-Irish providers to do so.
About Digicel Group
Digicel Group is a total communications and entertainment provider with operations in 33 markets across the Caribbean, Central America and Asia Pacific. After more than 15 years of operation, total investment to date stands at over US$5 billion worldwide. The company is renowned for delivering best value, best service and best network. Digicel also runs a host of community-based initiatives across its markets and has set up Digicel Foundations in Haiti, Jamaica, Papua New Guinea and Trinidad and Tobago which focus on educational, cultural and social development programs.
For more information about FlexiSIM, contact us today on flexisim.sales@voyagerip.com
Finding a clear view on the differences of KA Band and KU Band is not easy. VSat providers offer a lot of content online about which is better. While KA has a bit of a buzz surrounding it, in some cases, it may not be the best solution for you! Check out our comparative infographic here! Continue reading →
An innovative scheme by marine broadband solutions company Voyager IP will change the way customers can keep track of their VSAT and IT support services.
On Thursday 9th July, 2015 at Elfordstown Earthstation in Cork, Mr Simon Coveney TD, Minister for Defence, Agriculture, Food and the Marine, officially launched the new satellite communications service to the Irish Naval Fleet provided by the National Space Centre and Voyager IP, the first All-Irish providers to win the contract. Continue reading →
Voyager ip have spent the last 2 months testing the internet at sea broadband bonding. The results have been very encouraging. We will be posting the Test results and comments from Captain shortly.
Marine Internet speed is always a challenge. Indeed, many companies are continuously working on new technologies that will improve the general usability quality of Marine broadband. One such new technology is Broadband Bonding. Continue reading →
Tell me how Voyager IP was founded?
The business was founded after a chance meeting at METS a few years back, over a steak dinner, during which a mouse turned up in the restaurant! The idea was to establish an organisation that provides seamless fully supported VSAT marine internet solutions with a service support structure of the highest quality. We wanted to provide flexibility that gives more service configuration control. Our research indicated that there was a gap in the marketplace for this type of company. In early 2013 we gradually put the pieces into place and officially commenced business in April 2014. Continue reading →